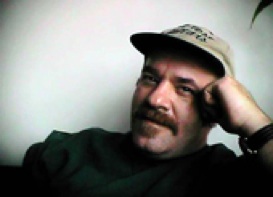 Seattle resident Michael Dupille has worked in art his entire career as both creator and educator.  Experienced in a variety of media  including animation, illustration, print, and textile design, he continues  to challenge himself through invention and innovation.
Michael was part of the glass blowing program at Central Washington  University in the early 70's.  Since the late 1980's he has worked extensively with glass, having developed and refined a technique for "painting with glass" that uses  crushed glass (frit) in combination kiln fired methods. He refers to this  process as fritography.  Michael pioneered many kiln forming  processes, especially in the area of mold making and kiln casting.
He has done design work for Bullseye Glass, was a guest artist and instructor at Camp Colton, and his creative input is well featured in Boyce Lundstrom's books on art glass techniques. His work is highly collectible and his numerous public and private commissions include  projects for the Washington and Oregon State Arts Commissions, The Everett Cultural Commission, The Seattle Times, The Pierce County Arts Commission, Amazon.com and the Seattle Mariners.
Artist Statement
My primary medium is kiln-formed glass.  Large scale pieces are created as murals or individual elements using fused crushed glass. This is a technique I developed in the 1980's as one of the pioneers of the kiln formed glass movement.
The process of creating and innovation go hand in hand. Often the desire to produce a work leads to a new technique or process.  My aesthetic is driven by circumstances of life and the moments that hold our thought and give rise to inspiration. My imagery is representational with imaginative twists to embellish the narrative. I call my approach "soft surrealism", which requires a second look and brings positive reactions. Humor or whimsy are also viable tools to evoke a positive response. Sometimes a title creates the smile and other times it is the execution of the idea. I target concepts which create areas of visual delight in my public and personal art. I feel obligated to reflect the environment, either physical or cultural, as part of that. I visually listen and respond to what I hear in designing my work.  I am blessed with a fertile imagination and the technical abilities to self actualize my ideas.
Michael Dupille
Seattle, WA